New Sample Handling CATALOG section NOW AVAILABLE!
Take a look at the new SureSTART section of the Consumables catalog today!
You'll see there have been many changes to this year's version of the catalog as we focus solely on our new SureSTART collection.
If any teams would like training on the new section, please reach out to antonietta.wallace@thermofisher.com to arrange this.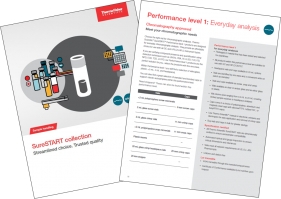 Application Note Roundup – New Appnotes Across CMD
Since our last newsletter, the following appnotes have been published, featuring CCS products:
mRNA direct sequence mapping using automated partial digestion with magnetic nuclease and LC-HRMS (CN000723)
Products(s): DNAPac™ RP, 100 × 2.1 mm i.d. (P/N 088923)
IMAC-enrichable crosslinking reagents for structural biology and interactomics (AN000928)
Product(s): EASY-Spray™ HPLC column, 75 µm x 25 cm (P/N ES902)
Stay ahead in developing green energy solutions: Fatty acid methyl ester (FAME) analysis for jet fuel using gas chromatography-mass spectrometry (AN000773)< /a>
Product(s): TRACE™ TR-FAME 60 m x 0.25 mm i.d. x 0.25 µm film capillary column (P/N 260M154P), LinerGold™ Split/Splitless with Quartz Wool (P/N 453A2265-UI)
Simultaneous analysis of underivatized anionic and cationic polar pesticides in food (AN000772)
Product(s):Acclaim Trinity P1 column 100 x 2.1 mm, 3 µm (P/N 071389), Titan3™ syringe filter, 17 mm PVDF membrane (P/N 44513-PV), 1.2 mL, 9 mm glass vials (P/N 1.2-UHRSV), Pre-slit PTFE vial caps (P/N 9-SCK(B)-ST1X)
NEW app note: Multi-residue analysis of pesticides in edible oils
See the brand new application of determination of pesticide residues in sunflower oil at trace levels on TraceGOLD™ TG-35MS analytical column run on a TRACE™ 1610™ TSQ™ 9610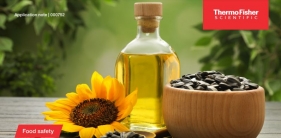 Do you have customers asking for information on battery analysis?
Here are 2 recent application notes on the topic of lithium battery analysis:
Rapid determination of residual N-methyl-2-pyrrolidone
(NMP) in lithium battery electrodes by headspace gas
chromatography
Analysis of electrolyte components of lithiumion batteries using gas chromatography-mass spectrometry
WEBINAR: Characterization and Sequence Mapping of mRNA using MS
There is currently significant demand for the development of new and improved analytical methods for the characterization of mRNA therapeutics. The ability to rapidly identify, characterize and sequence map large mRNA therapeutics with high sequence coverage provides important information for identity testing, sequence validation and impurity analysis.
In this Technology Networks webinar, we discuss how the development of an automated, high-throughput workflow for the rapid characterization and direct sequence mapping of large RNA and mRNA molecules enables routine comprehensive sequence coverage from a single analysis while overcoming challenges associated with digestion, oligonucleotide separation and identification.
Register and share!
https://go.technologynetworks.com/therapeutics-using-mass-spectrometry
WEBINAR: 1 Collection. Three Performance Levels. Introducing SureSTART
This event showcases Thermo Scientific SureSTART collection of vials and caps. The series of products are organized into three performance levels to provide the users with the affordability, compatibility and performance all analysts need. Our Sample Handling Product Manager, Dr. Lennartz Detlev will share in-depth the importance of using certified quality consumables in ensuring high quality analytical results.
Live (Singapore & EMEA friendly times): June 30, 2022. On demand thereafter
Register here