New products – Capillary MAbPac RP columns and Emitters
On the 13th January, we are introducing the much anticipated Capillary MAbPac RP stand alone Double Nanoviper and EASY-Spray columns for top- and middle- down proteomics and Biopharma markets!
MabPac RP 4µm, 150µm x 15cm
EASY-Spray MabPac RP 4µm, 150µm x 15cm
Who are our customers?
Top-down proteomics research
Veterinary Doping Forensic Laboratories
Clinical peptides research
Glycomics
We offer the best Capillary and Nano emitters on the market for use with Faims
Who are our customers:
Bottom-up proteomics research
Top-down proteomics research
High throughput proteomics
Clinical research proteomics
Evo-Sep one and PepSep u sers
Any MS sold with FAIMS
Listen to the Sneak preview recording from Product Manager!
MAbPac Capillary RP HPLC Column Live Webinar – Jan 13th
Discover capillary chromatography LC-MS and join our live webinar:
'Workflows for robust and sensitive separation of mAbs, intact proteins at subunit and peptide level using capillary chromatography by LC-MS'
Wednesday, January 13, 2021 | 8 a.m. PST | 11 a.m. EST | 3 p.m. GMT | 4 p.m. CET
In this webcast, we will introduce you to a novel capillary Thermo Scientific MAbPac RP column chemistry specifically designed in capillary format for the reproducible separation of therapeutic antibodies and their subunits. We will also demonstrate the bottom up applications to monitor protein attributes such as site occupancy, disulfide mapping at the peptide level.
Key learning objectives:
Learn how to easily set-up the hyphenation between the new capillary MAbPac RP column and mass spectrometry for intact protein and bottom-up proteomics application s
Extend your capability in attaching nano and capillary columns to reliable and robust emitters
Please share the Webinar registration link with your customers.
Forward created email with Webinar invitation to your customers.
*Note this webinar will be availabe after the 13th Jan on-demand*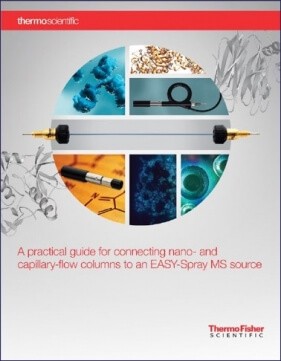 Storefronts and Product Pages Capillary HPLC Columns – NOW AVAILABLE
Visit our new Capillary HPLC storefront and product pages
Storefronts
Product pages
All products are ecommercable for North America and EMEA direct customers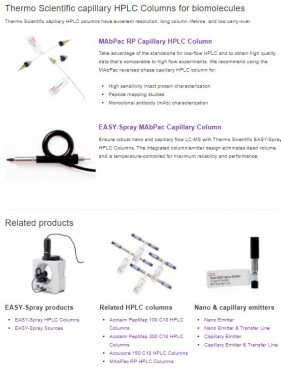 Please share on social media – Customer testimonial videos
'Thermo Fisher Emitters could not be simpler to use' – don't just take our word for it!
Instead, we have a few nice customer testimonial videos for you to share on social media:
Erwin Schoof is Associate Professof at DTU Bioengineering Department of Biotechnology and Biomedicine. Technical University of Denmark.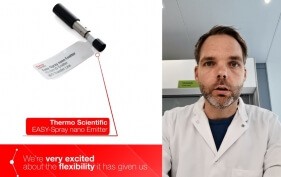 Application Note: Capillary LC-MS Analyses of Intact Proteins and mAbs
High sensitivity capillary LC-MS analyses of low amounts of therapeutic antibodies and their subunits
The use of the MAbPac RP capillary column offers utmost sensitivity and excellent selectivity for the mass spectrometric analyses of intact proteins and mAb subunits.
Application Note22065 demonstrate advantages of using low flow liquid chromatography for intact protein analyses and highlight that the quality of data is comparable to high flow experiments
Demonstrates the column performance through high resolution intact protein separation and overview of intact protein workflows
Demonstrates the use of capillary fo rmat to obtain information on multiple critical quality attributes from very low amounts of material