NEW LC Column Selection tool – Finding the right column just got easy!
Find columns with ease! Whether your customers are setting up a new method, or simply looking at their options, our LC Column Selection Guide will steer them – and you – directly to the right product for Biomolecule characterization in a few simple steps.
You can find the pre launch tutorial here (internal use only)
——————
Please share the news of our NEW LC Column Selection Guide with your customers. Let them know how easy their lives will become by using this tool when in need of a new column!
Share the link https://www.thermofisher.com/order/lc-column-guide/ and use the images here.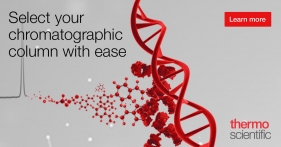 NEW LC Column Selection tool – Finding the right column just got easy!
As you know, global supply chain challenges are a current constant – but as we continue to mitigate glass shortages and address global demand for our Sample Handling products, it's good to know that there are options available that you can take advantage of today!
As part of the SureSTART launch, we have ensured product availability – this means we have plenty of SureSTART product, on our shelves and ready to go!
CALL TO ACTION:
Where it makes sense, please have the discussion with customers about how they can mitigate global supply challenges by switching to SureSTART. SureSTART parts correspod to legacy parts and you can find direct replacements by using our Sample Handling Cross-Reference Guide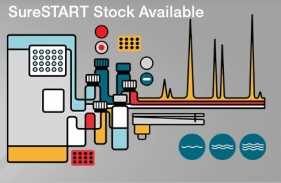 NEW LC Column Selection tool – Finding the right column just got easy!
Hot off the press, we're bringing you early access to NEW Consumables Catalogs for:
Sample Preparation
BioLC Columns
AND for the first time, we have a dedicated Low Flow Catalog
Catalogs are available now in Highspot – first as individual PDFs and as a complete 'Chromatography Consumables and Columns' catalog in a few weeks time. thermofisher.com/catalog will also be updated in due course.
Customer communciations and HighSpot pitches are also being prepared
Coming Soon: Sample Handling catalog
Coming later in the year: LC and GC catalog sections
Download now »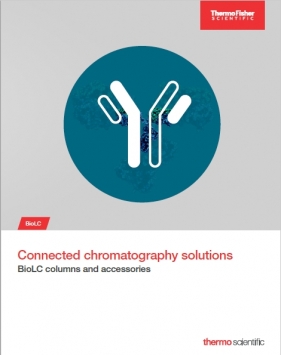 Please share your feedback: Biomolecule analysis questionnaire
If you have been involved with customer discussions around our BioLC column range, or are involved with Bioanalysis/ biomolecule analyses using LC, please spare 10 minutes to provide us with some feedback on your experience with our LC columns and their positioning in the marketplace.
The link to the survey can be found here.
Are your customers complaining about column death?
This may help you!
We have a NEW whitepaper detailing how to prolong the lifetime of an LC column through preventative measures – and also how to investigate if things go wrong.
Find the link to the article on highspot here.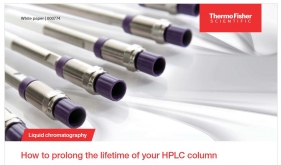 The New LC column tool was also announced on AnalyteGURU – go here and read about how this tool came into creation.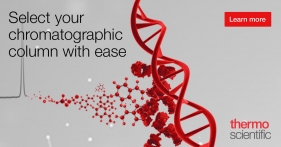 New Journal Publications: MabPac RP
Here you'll find a roundup of new publications where our flagship MabPac RP column has been used:
New Technote for customers working with polar pesticides
Acclaim Trinity P1 mixed-mode chromatography column coupled with an inert LC system: an innovative approach for underivatized highly polar pesticides separation
Despite control efforts implemented in many countries, the European Food Safety Authority shows that pesticide contamination remains a food safety issue.
Among the 25 most frequently encountered pesticides, anionic or cationic polar pesticides are broadly identified. Facing these results, routine analysis demand is increasing; however, analyzing polar pesticides presents a difficult analytical challenge.
A new analytical method based on the Acclaim Trinity P1 column was developed to overcome this challenge. By competing with zwitterionic technology, this column chemistry allowed cationic and anionic polar pesticides analysis in a single run.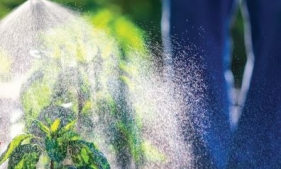 New Technote: Time to round up food safety customers?
Assessment of mixed-mode chromatography for underivatized glyphosate and glufosinate analysis in foodstuffs
Glyphosate, commonly known as Round-up is an organophosphorus compound, which has been widely used in agriculture and horticulture to improve cultivated crop yields.
Approved for use in Europe until December 15th 2022, but has been used frequently as a herbicide since the 1950s. The result of this intensive use is glyphosate residues in food, which have been the subject of recent controversy
Learn more about our analytical solution to analyse glyphosate
Download now »
Use of Hypersil Vanquish C18 columns in MAM 2.0 Biopharma workflows
Application note 000463 is a great example of the versatility and performance of the Hypersil Vanquish C18 columns, in biopharma monoclonal antibody peptide mapping applications.
The application note described the transfer of a R&D method towards a Q&A environment, including the transfer from the Orbitrap Exploris 240 (R&D) to the Orbitrap MX (Q&A).
Using the NIST antibody standard, the application note clearly demonstrated both high performance and high reproducibility of the method in the Hypersil Vanquish C18, Vanquish Horizon/Flex and Orbitrap MX workflow.